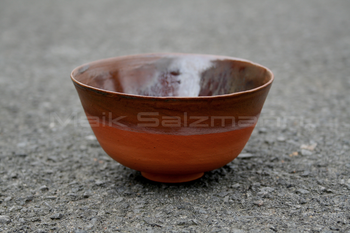 tea bowl #7
Red firing clay, bought Temmoku iron oxide glazing. Fits good in my hand, my favourite so far. I am quite happy with the proportions, plus it is very thin.
The bought Temmoku glazing is not very pretty, even when put on 3 times. Have to make my own, someday.

tea bowl #6
Same red clay with bought white glazing. I dusted some black iron oxide on before firing to avoid a clinic white look.
No clinic look at all, more like used for some days. Came out of the kiln like that. I like it, adds some life. Dried to irregluar shape, maybe because being thin walled.